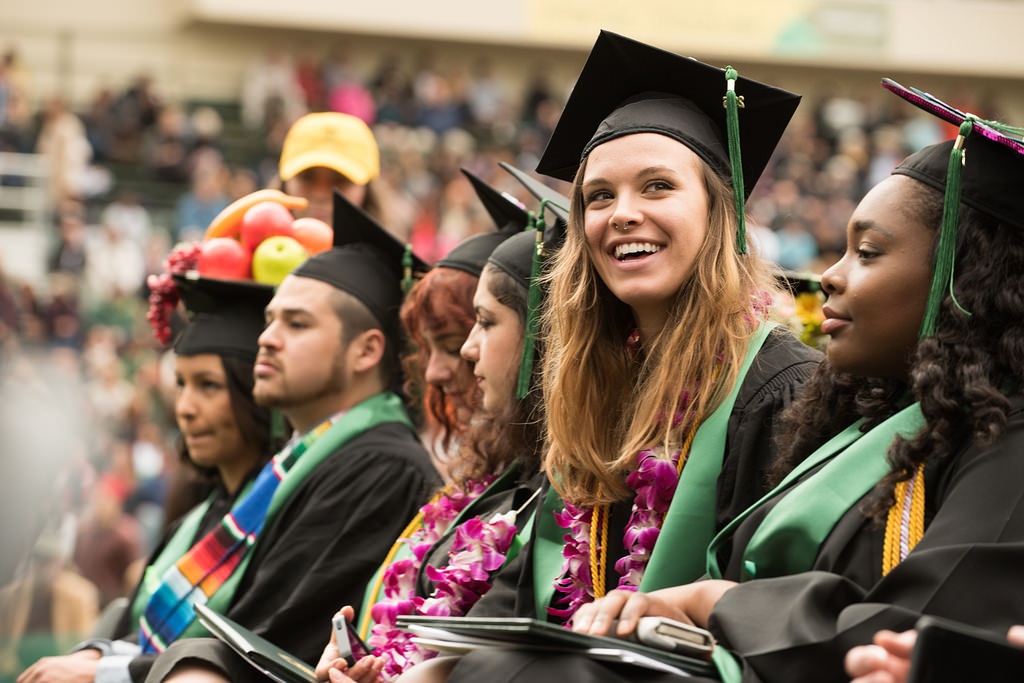 Humboldt Alumni contribute in many ways to help keep their alma mater strong. They network with and advise current students, helping them on their career path and linking them to jobs after graduation, and they contribute their financial resources to help grow programs, institutes and scholarships that hold special meaning for them. Current students are appreciative for these gifts of time, expertise, and money, and want to share with you, our alumni, what they are doing to make our communities healthier.
Where are they now?
2021
Gloria Sustaita, B.A., Teen Court Coordinator, Humboldt County
2020
Stephanie Souter, M.A., Research Analyst for Institutional Research, Analytics, and Reporting, Cal Poly Humboldt.
2016
Hannah Davis, M.A., working at Humboldt's Counseling and Psychological Services as a postgraduate resident. Interested in eating disorders and body image, shame, assertiveness, and self-comparison. Hopes to start a disordered eating group in Spring 2017 for Humboldt students.
Fernando Garica, M.A., began a doctorate program for an Ed.D. in Sport & Performance Psychology.
Gabby Garcia-Robledo. "I attended Cal Poly Humboldt and received my Bachelor's Degree in 2016. Afterwards I have been working full time in jobs solely pertaining to my future career in School Psychology. I now have the privilege to have worked with all age groups and am ready to start graduate school next year in 2018."
Desiree Ryan, M.A., began a Ph.D. program in Social Psychology at University of California, Santa Cruz.
Edwin Vazquez, M.A., began a Ph.D. program in Human Development and Family Science at Arizona State University
2015
Monica Correale, M.A., began a Ph.D. program at University of Minnesota, Institute of Child Development studying affect regulation processes in the context of attachment relationships.
Kayla Johnson. Kayla is now a graduate student in the Masters of Science, Marriage Family Therapy program at Alliant University, Fresno. She is continuing her employment with California Polytechnic Institute during the completion of the program. 
Meghan Martinez, M.A., MFT, is working at Cal Poly Humboldt's Counseling and Psychological Services. She served as a clinical supervisor at Autism Learning Partners. 
2014
Tara Yarberry, M.A. 

Tara is working toward becoming a Board Certified Behavior Analyst. She is a Behavior Services Coordinator and Associate Behavior Consultant at Remi Vista, Inc. and former Service Coordinator at Far Northern Regional Center. 
2013
Michael Le, M.A.,

Director, Institutional Research, Analytics, and Reporting

, Cal Poly Humboldt.
Jared Martin, M.A. Studied Developmental Psychopathology in the Academic Research program at Humboldt. Works at the Chadwick Center for Children & Families at Rady Children's Hospital-San Diego.
Michael Robinson, M.A., applying to medical school with an interest in specializing in psychiatry. Currently volunteering at Santa Clara Valley Medical, a hospital that specializes in under-served populations and is a regional class one trauma center. 
Sarah G. Wood, M.S., Doctoral Candidate, Developmental Psychology, Florida State University. Sarah studies learning disability and has recently published a paper on Test Anxiety and a High-Stakes Standardized Reading Comprehension Test: A Behavioral Genetics Perspective.
2012
Esmeralda Diaz, M.A., works at For the Child, a non-profit organization that treats children/adolescent and families who are recovering from traumatic experiences including but not limited to physical abuse, sexual abuse, exposure to DV, and other complex traumas.
Kristen Gallander, M.A. admitted to the Ph.D. in Zoology program at the University of British Columbia, starting Fall 2017.
James Hornback, B.A. intern at Metropolitan State Hospital, Norwalk, CA.
Erin Winters, B.A. Humboldt, MEd. in Educational Psychology (Stats and Measurement) at UW-Seattle. Currently working on PhD in Education (Measurement, Statistics, Research Methodology) at UC-Davis.
2011
James Clifton, M.A., Ph.D. in Quantitative Psychology at U.C. Merced
Patrick Folsom, B.A., Regional Vice President at LA Fitness.
Brian Griffiths, M.A., Ph.D. UMASS, Boston, Developmental and Brain Sciences. Received a post-doc position at Stanford University in 2017.
2010
Zachary Rankin, M.A., works in New York as a chemical dependency counselor. Will be taking the AAMFT licensing exam in September 2016 to earn his Marriage and Family Therapy license. 
Monique Gilmore, M.A., admitted to their Clinical Doctoral Program of choice - Fielding Clinical PhD program in Santa Barbara. "

I am sure you already know how much Dr. Gold changes students' lives and trajectories, but I wanted to pass on that Dr. Gold was the [professor for my] first psychology class at Humboldt.  After I went to his social psychology class as an undergraduate, I changed my major to psychology and worked on research with him until I graduated my undergraduate education.  He invested graduate level hours into helping me complete my masters level thesis, with excellent guidance, and endless patience, as an undergraduate as an Honors Thesis student so that I had original research that was APA journal ready to project my future forward. . . this means a lot to myself and my extended family to have the opportunities that Dr. Gold has availed me.  He is wonderful, and he will always be my favorite teacher".
2008
Jennifer Streeter, M.S., BCBA, Jennifer worked for intensive behavior service agencies from 2007-2016  with the Redwood Coast Regional Center. She currently works for Humboldt Del-Norte SELPA (Special Education Local Plan Area) through the Humboldt County Office of Education as a Behavior Consultant for school districts. She is also a CAPTAIN (California Autism Professional Training and Information Network) Cadre representative.
2001
Mieke San Julian, M.A., BCBA, "I am currently working in four positions within the field of Psychology, mostly in Applied Behavior Analysis (ABA). After completing my BA at Cal Poly Humboldt where I took my very first ABA course with the wonderful Dr. Mary Gruber, I continued on with an MA from Stanislaus State University, followed by a Community College Faculty Certificate from Sacramento State University, and certification by the Behavior Analyst Certification Board. 
Because of my educational background, which started at Cal Poly Humboldt, I am now able to enjoy teaching part time introduction to Psychology courses at Sierra College, ABA graduate school courses online for University of West Florida, working as the Clinical Director for a 1:1 ABA service provider for children with autism, and as the Research Coordinator for a similar service provider.  My husband is an Humboldt graduate as well. We are both very thankful to have spent our early college years in such a beautiful location at a fantastic university. Together we live in Sacramento, CA with our two boys who have enjoyed spending time in Arcata with us on family trips. Perhaps they will also choose to attend Humboldt!"
2000
Leslie Sigala, M.A., Bilingual Mental Health Specialist, LMFT for Instituto Familiar de la Raza, Early Childhood Mental Health Consultant for Headstart, and official rape crisis counselor with the medical team at Burning Man. 
1998
Shellye Horowitz, MA. in School Psychology. Shellye is the Principal at Winship Middle School in Eureka, CA. Previously Shellye served as the head of the Jerusalem American International School in Jerusalem, Israel. 
1993
Tamara Lawrence, Ph.D. in Social Psychology , University of Louisville. "I got my BA in Psychology from Humboldt in 1991 and received my MA in 1993. I went from Humboldt to Louisville, KY where I graduated from University of Louisville with a Ph.D. in Experimental Social Psychology in 2001. I've been teaching in the Department of Psychology and Neuroscience at Baylor University since 1998."
1991
Mary MacLin, Ph.D., Professor of Psychology at University of Northern Iowa.